One of the best things a new translator can do to find work is to look for translation agencies hiring translators.
A lot of times this goes counter to what a lot of translators think.
The reason is because new translators just starting out go to forums like Proz and read about all the negative things more experience translators say about translation agencies hiring translators.
Guess what?
IT'S NOT ALL BAD!
Sure there are some messed up translation agencies.
But you know what? There are probably more fake translators out there trying to scam potential clients than there are translation agencies trying to scam translators.
So let's keep it real here.
As I mentioned in a previous post on translation agencies, they can offer a lot to a translator just starting out – potential clients being the biggest thing.
So, once you've seen the complaints for what they are and are willing to try things on your own with translation agencies, it's time to move on to the next step: finding the agencies.
How to Find Agencies Hiring Translators
Search on Google
The first step for finding translation agencies that are looking to hire translators is to go to Google.
But Google is a big place. Just doing a search on translation agency will yield over 400 million results.
There is no way that you or anyone else could go through all those results to find what you want.
So you have to be smart about searching.
Here's how. You'll have to actually do two searches.
One in English and one in your other language (Spanish, French, Chinese, Kingon, whatever).
That's because English is the most commonly used language on the Internet and most translation agencies use English in their advertisements for hiring new translators.
However, not all translation agencies do this. Smaller boutique agencies sometimes do not have English versions of their website. This happens when the agency doesn't offer translations either into or from English. So they don't feel like it's worth their time to have a website in English.
You want to be able to find those websites, though, because they also have need for translators with your particular set of skills.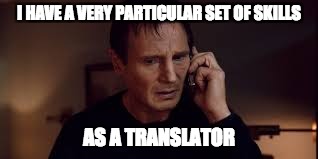 OK, so enough blah, blah.
Let's do some real world practice to see if we can find translation agencies hiring translators for Spanish.
OK, so here's a screenshot of a search I ran with the words translation agency Spanish apply:
Once you get past the three sponsored postings, you see the last one: Transperfect.
So once we click on the link, we see that this is an agency that offers Spanish translation services (probably amongst other languages as well).
Taking a quick look at the sidebar we see that we are presented with the link we wanted:
See it at the bottom?
Freelance Linguist Application
That's the one we want. We know that this agency is interested in hiring Spanish translators. Now all we have to do is fill out the application on the next page.
OK, now what about option number 2? Searching for translation agencies interested in hiring Spanish translators but don't work in English (and therefore don't have English-language websites)?
Well, we can do that, too.
Here's a screenshot.
OK, so you see that I searched on agencia traduccion cv. And you can see that the first result is a Spanish translation agency that is searching for translators.
If you follow the page, you'll be taken to an internal page on their site that talks about what they are looking for in a translator and how to apply.
OK, so that's searching on Google. Sure you can use other search engines like Bing or Yahoo to do the same thing; however, I'd stick with Google to begin with as they seem to have more results from the searches that I've done.
Search on LinkedIn
OK, you've read about how social media can be a waste for translators. Except for LinkedIn. Well, I take that back. LinkedIn can be a waste as well but it's potential upside is much better than Twitter or Facebook.
One of the good things about LinkedIn is that lots of companies have registered on the site. And as a user, you can do searches for these companies, in our case translation agencies.
OK, so the first step to do this is to make sure you sign up for an account.
I won't walk you through how to do that. It's pretty straightforward once you get to the site.
I will say this, though. For what I'm going to show you here, there's no need to sign up for a Premium account. Maybe that is important for other reasons. I don't know. I've never signed up for one. But like I said, for what we're going to do here, you don't need to spend that money.
So, once you sign up for an account, go to the following link:
www.linkedin.com/jobs
Here's the page you should see:
We're interested in the search boxes.
The first one is for keywords. The second is for a specific location.
What we're going to put in these boxes is similar to what we did for the Google search previously.
We are going to include words that will be most likely to bring back the results we want, obviously. And those results should include translation agencies interested in hiring translators. And we'll keep it to Spanish, since that's the language I know.
Using the search terms Spanish Translator and limiting the search to the United States, we get the following results:
A total of 178 results.
Now, one thing to note is this. Look at the header of the above image and you'll see that we searched on "Jobs."
Doing a search on jobs brings back Spanish translator jobs that companies are looking to fill. Some of these jobs are freelance opportunities, some are in-house positions, and some are contract or volunteer positions.
These aren't necessarily translation agencies that are looking for translators. That's OK, though. We'll get to how to do that in a minute.
But first, what happens if you click on a Spanish translation job that you're interested in?
You're presented with this page:
The page lists a job description but before that has the "apply" button. That's the button you want to press.
Once you do, you get a pop-up window:
Fill out the form, upload your resume, and there you go. You've applied for the job.
All right, now let's go back to how to search for actual translation agencies instead of searching for translator jobs.
If you go back and look at the search page, after performing your search, click on "Companies."
Here are the results you get (still with the keywords Spanish Translator):
This is a cool search in that it lists all the companies that provide Spanish translation services.
However, there are a couple of things that I don't like about this search.
First, there is no way here to filter this search by location like you can with the "Jobs" search.
Second, there's no way to know whether the companies listed here are actually hiring translators.
You have to click on each one and then follow the links the company's own website (if it's listed) in order to see what kind of translator job openings they have.
So, if we click on the first result, The Spanish Translator, we get the following page:
This listing doesn't give us anything. The company is likely a sole proprietor since the company size is 0-1. There isn't even a website listing for the company. That's a bad sign for us. There's definitely no interest by this company in hiring a freelance Spanish translator.
So we have to click back and click on the next company, Translator UK.
This listing is much better and much more likely to provide the results we're looking for.
If we continue to scroll down, we see that the company listing contains the following details:
company website
headquarters
year founded
company type
company size
specialities
All useful information for us. The most important here, though, is the company's website. That is where we'll find out if the agency is hiring translators or not.
Once you get to the website, then you have to click around and figure out if the company is hiring.
In this case, I couldn't find a link for potential translators interested in working for Translator UK. That doesn't necessarily mean that the agency isn't hiring, however. What it means, though, is that you're going to have to find the contact information for the company and reach out to them directly and advertise your services.
Then you repeat the process with the next listing on LinkedIn.
As you can see, this is a time-consuming process that will take a long time.
Luckily, though, I've already done this and compiled a listing over nearly 1,000 translation agencies throughout the world who are all hiring translators.
The list can be found in my book, Translator's Market.
You can get it on Amazon if you're interested in saving time from having to click through every listing yourself.
Search on Forums
OK, once you've search on Google and on LinkedIn, it's time to go to the next step, which is to search on the various translation forums online.
And really, when I say that there are various search forums, I really mean there is only one translation forum in particular that is worth searching for translation jobs or translation agencies hiring translators.
That would Proz.com.
If you're a new translator, you might not have heard of Proz yet.
Proz is essentially an online community of translators built particular for translators, to help them in their work.
Here's a quick glance of the types of services that it offers:
You can either pay for membership (which comes to about less than $200) a year or you can use some of its services as a non-member.
For our purposes here, you don't need access to the membership area.
Specifically, there are three areas of the site that you can use to find translation agencies hiring translators.
Translation Agencies and Companies Directory
The first is the Translation Agencies & Companies directory.
Here's what the page looks like:
By the way, this directory was initially made for potential translation clients searching for translators to perform work for them. Here we're using it as translators to find potential translation agencies. Shh, don't tell anyone.
There are two main sections you want to pay attention to.
The first is the main center right part of the screen. This is where the list of translation agencies and translation companies appear. Notice that there are a total of 62,107 business listings in this directory.
Each business lists the following useful information:
location
contact phone number
number of years in business
number of employees
how many words per day they translate on average
how many languages they support
the number of services offered
the number of industries served
their ranking on the Proz.com Blueboard (which is a rating system for translation companies by translators)
how long it's been a member of Proz
And that's just the initial view.
Once you click on a company (let's say the first one), you're presented with a complete overview of the company, which usually includes a link to that company's website.
There you can search around for any links for applying to work for that company.
Now 62,000 translation agencies is a lot of translation agencies to search through, especially if you're a specialized translator (which you should be).
However, what's great about this listing is that you can filter out the companies you don't want to see by using the filters on the left part of the screen.
So, let's say that you're a Portuguese translator wanting to translate sports-related information for a Chinese company.
Put it in the search filters and guess what? Results:
57 of them, in fact.
Not bad.
Now try your combination and see what you can find.
Proz.com Jobs Directory
This is the second type of search you can do on Proz.com.
This search is not so much geared towards finding translation agencies hiring translators. Instead, it's a place where translation clients can post jobs that translators can bid on.
So while you won't find translation agencies ads for freelancers on a continual basis per se, you can use the listing to find and bid on potential jobs.
Here's how to do it.
First, make your way to www.Proz.com/jobs.
There you'll be greeted by a page that looks like this:
Similar to the translation directory, you'll notice that there are two parts: a search bar on top followed by the results down below.
Each result shows the following:
the date the job was posted
the language(s) combination needed
a short description of the job
the type of membership of the person or group that posted the job
their "score"
the status of the job
Now, the results are good, but what make them best is using the search bar to narrow down the type of job you are looking for.
This entails including at a minimum the source language and the target language.
If that is the only thing you filter on, you'll still save yourself tons of time and energy looking through jobs that don't match your language skill set.
But, you don't have to settle for just filtering on the language combination.
You can also filter on the following:
speciality area (fields)
when the job was posted
location
search terms
whether you are interested in translation or interpretation
the job's status
the expiration period
confidentiality level
Now, I would advise that you don't filter your search too much in the beginning because you'll have the potential to severely limit the number of potential job opportunities that show up.
Notice that at the time I'm writing this, there are no job opportunities for Cornish to Fijian translators in Antarctica specializing in Taxation and Customs Law.
Dang. Oh well.
OK, but what happens if you have a combination that results in a job listing?
That's when the fun begins. You click on that listing, see if it's a match for the skills that you have, and then you apply. Simple as that.
Proz Blue Board
Now we come to the final search on Proz.com that we can do to hopefully find translation agencies hiring translators.
This method uses Proz's Blue Board, which according to Proz is:
A searchable database of language job outsourcers with feedback from service providers.
Or in other words:
Basically, it's a way for language providers to rate their experience in working with a client or translation company or agency by assigning a numerical value between 1 and 5 on how likely the language provider would be to work with that client again.
The higher the number, the more likely that provider would be to work with that particular client. The lower the number, the less likely the provider would be willing to work with that client.
Now, that's great but it's not exactly what we want to use the Blue Board for. Instead, we want to use it to find translation agencies hiring translators. Or at least find translation agencies that we can research further.
Here's what the initial page (www.proz.com/blueboard) looks like:
Notice that the listings are originally listed by the latest entry date and that each entry lists the following:
latest entry
name of the language agency/company
the country of the agency
Proz.com profile
average score (likelihood of working again)
number of entries
Now, the way the listings are presented here don't give us much to work with in terms of finding agencies hiring translators.
However, while the search function isn't very powerful here, what we can do is search on country where the agency is located.
So, let's say that we live in Azerbaijan and want to provide our translation services for those companies.
Here are the results:
From here, we can click on each company to find out more about each one.
Now, another negative about the Blue Board is that unless you are a Proz.com member, you won't be able to see the outsourcer contact details or the comments detailing the particular ratings that were given.
If you are a member, though, you will be able to see those details. Then we can do what we did earlier and follow the links to the company and see if they are hiring translators.
Conclusion
So, in conclusion, these are the three resources you can use to find translation agencies hiring translators:
Google
LinkedIn
Proz.com
It will take a lot of leg work, persistence, and a little bit of luck, but if you do find translation agencies and consistently apply to work for them as a freelance translator, you will be able to build your client base.
---
P.S. One more thing, as you can imagine, finding translation agencies hiring translators this way is very time intensive. You could spend days and weeks going through these pages and lists to find the right agencies that want to hire translators. Or, you could buy my book: Translator's Market: The Ultimate List of Translation Agencies that Want to Hire You. In it, I've already done all the leg work for you to compile the perfect list of agencies looking for translators just like you to work for them.